Chiropractic Care
What Is It?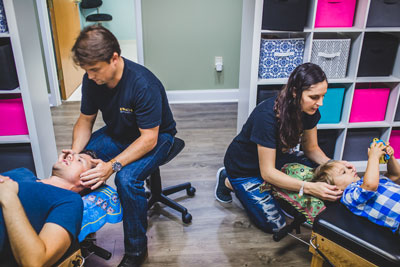 At our practice, Dr. Angela and Dr. Chris believe that your body was designed with everything it needs to heal itself. However, through everyday stressors, trauma and injuries, our nervous system can become compromised, leading to disturbance throughout our body.
Chiropractic is all about removing neurological disturbance and interference so that your body can get back to being self-healing and self-regulating, the way it was created to be. Through performing specific and unique spinal adjustments on patients, we're able to do exactly that. Improving the overall health on the inside, allows you to have the healthiest expression of life on the outside. There is something for every family member at New Hope Chiropractic.
Our Techniques
Dr. Angela and Dr. Chris understand that no two patients are alike, which is why they offer several different adjustment techniques to accommodate all ages for every family member:
Low-Force Techniques – great for infants
Intra-uterine Constraint Techniques – great for pregnancy
Full Spine
Gonstead
Activator
SOT
Thompson Drop Table
If you're visiting us for the first time and are nervous about receiving your first adjustment, don't be! We'll take the time to explain the entire process to you from start to finish, and begin with the gentlest technique possible. We want you to feel comfortable and relaxed in our office, and we'll do everything we can along the way to make sure of it.
Still Have Questions?
We know that each individual coming to our office has a unique set of needs and challenges.  Are there still questions you need answered?  Schedule a complimentary 15 minute  phone consultation with one of our doctors to get your questions answered.  You are important and getting your questions answered is important! Call today and ask for your complimentary phone consultation today!
Let Us Help Your Family
We want to help your family achieve the best quality of life possible, free of sickness and dis-ease. If you're ready to visit our practice to learn more about natural chiropractic care, we'd love to have you. Contact us today to get started!

Chiropractic Care West Ashley | (843) 203-3199