Pediatric Chiropractic Care in West Ashley
Why Choose Chiropractic for Your Child?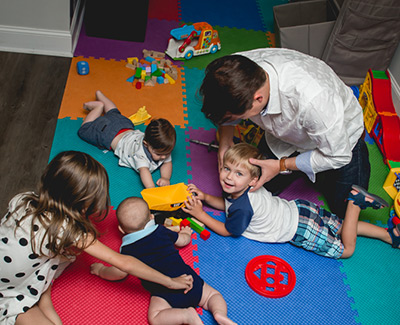 Did you know that the birthing process is traumatic for newborns? After a baby is born, they're left with an initial trauma that needs to be addressed in order to help ensure a properly functioning nervous system. If left untreated, that initial trauma can have a "domino effect" for the rest of their lives!
"Early trauma in a child's life followed by the toxicity and stress of our current lifestyle can quickly lead to the perfect recipe for everything from colic and ear infections to ADHD and more. Thankfully, there are natural and effective ways to help your child overcome these challenges, or even avoid them altogether." -Dr. Tony Ebel
With natural chiropractic care, you can give your children the best start in life possible. In fact, many of our young patients have enjoyed benefits including:
Improved digestion
Reduced colic
Improved development
Heightened attention and cognitive function
Less bedwetting
Less frequent ear infections
Immunity boost
Enhanced Coordination & Balance
Better nursing
Decreased Asthma & Allergy occurrences
Gut motility
Reduced hyperactivity
Improved development
Decrease overwhelm
Improved proprioception/sensory
And so much more
Do Pediatric Adjustments Hurt?
Absolutely not! Dr. Angela and Dr. Chris are passionate about providing safe and effective adjustments to children. We frequently use low-force techniques that require about the same amount of pressure that you would use to check the ripeness of a tomato. Most kids don't even know they're being adjusted—but they certainly feel great afterwards! Care for each child is 100% unique for their specific needs.
Still Have Questions?
We know that each individual coming to our office has a unique set of needs and challenges.  Are there still questions you need answered?  Schedule a complimentary 15-minute  phone consultation with one of our doctors to get all of your questions answered.  You are important and getting your questions answered is important! Call today and ask for your complimentary phone consultation today!
Ready to Book an Appointment?
Whether you're a mom-to-be or have a house full of children who could benefit from chiropractic care, we're eager to help you. Contact us today to get started—you'll be glad you did!
CONTACT US »

Pediatric Chiropractic Care West Ashley | (843) 203-3199