Pregnancy Chiropractic Care in West Ashley
Care for Pregnant Women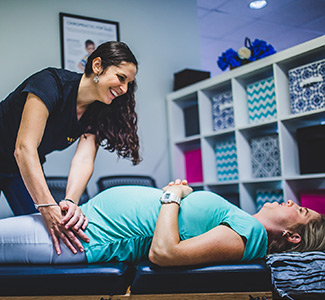 When a woman is pregnant, her body begins to experience both hormonal and physical changes almost immediately. From shifting organs to increased pressure on your nerves, pregnancy is certainly amazing-but can also lead to disruption in your nervous system if not properly addressed.
After all, if your body isn't functioning to the best of its ability, it's difficult for your baby to grow and develop in the best possible way.
How Does It Work?
At New Hope Chiropractic, our doctors are proud to offer care for expectant moms, which entails us using a specialized adjustment technique to ensure comfort during care. This helps to ensure your baby has enough room to properly grow, develop and move during pregnancy while keeping your own pain to a minimum. Through chiropractic adjustments, we'll help your spine remain properly aligned and your pelvis perfectly balanced.
You are important too mom! Care is not just focused on your growing baby, we want to make sure you have everything you need to handle all of the changes happening in your life. Whether this is your first or your fifth child, we know change can be stressful. Our team will make sure moms can handle the emotional, physical and toxic stress that is affecting your body during pregnancy. You are still going to experience all of the regular stresses in life but they are often magnified due to the shifting hormonal levels. It is vital for mom to still put herself first!
Your state of mind is your child's entire universe. When you are stressed, they are stressed. When you are happy, they are happy. Too often our world pushes us towards stress which causes specific physiological reactions in our body. It is vital to spend as little time as possible using your stress system while pregnant because the baby is "wiring" their own nervous system. We do not want to wire them for stress! This means finding new and creative ways to manage and prevent stress in your life. Sound overwhelming? Don't worry, We can help!
The benefits of chiropractic care during pregnancy are numerous! Here are a few examples:
Stronger Immune System
Increased Blood Flow to the Baby
Reduction of hormonal symptoms such as nausea and fatigue
Reduction in Labor Time
Avoidance/Reduction of Common Pregnancy complaints such as reflux, carpal tunnel, sciatica, dizziness and constipation
A healthy nervous system for you, means a healthy nervous system for baby!
Pregnancy can be a time in your life when you need more support than ever before. That's why our office collaborates with other quality local providers, to make sure you have all the support you need.
Still Have Questions?
We know that each individual coming to our office has a unique set of needs and challenges. Are there still questions you need answered? Schedule a complimentary 15-minute phone consultation with one of our doctors to get all of your questions answered. You are important and getting your questions answered is important! Call today and ask for your complimentary phone consultation today!
Ready to Book an Appointment?
Whether you're a mom-to-be or have a house full of children who could benefit from chiropractic care, we're eager to help you. Contact us today to get started-you'll be glad you did!
CONTACT US »

Pregnancy Chiropractic Care West Ashley | (843) 203-3199